Our Online store allows you to shop when you have the time in the comfort of your own home.
Great fresh, high quality meat is available to you within hours of ordering. You can pick it up in the store for an in and out experience or call us when you arrive and we will deliver straight to your car. Fresh wholesome meat just got easier...
Curbside Hours:
Tuesday-Saturday:
10:30- 5:30pm
*If you are using EBT/ food stamps. The benefits program does not allow for purchases through the internet- you will have to call in or come shop inside the store. *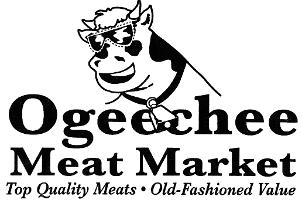 We do not ship. All sales are for our curb side service or to pick up in our shop. You must come to our location for service. If you have any questions or concerns please call us at 912.961.5223 or email us at ogeecheemeats@gmail.com. We appreciate you shopping with us and hope you like the convenience of our online shop.
1. OWNERSHIP, LICENSE & RESTRICTIONS ON USE
1.1 All right, title and interest (including all copyrights, trademarks and other intellectual property rights) in this Site belongs to Ogeechee Meat Market, LLC. In addition, the names, images, pictures, logos and icons identifying Ogeechee Meat Market, LLC. products and services are proprietary marks of Ogeechee Meat Market, LLC and/or its subsidiaries or affiliates. Except as expressly provided below, nothing contained herein shall be construed as conferring any license or right, by implication, estoppels or otherwise, under copyright, trademark or other intellectual property rights.
1.2 You are hereby granted a non-exclusive, non-transferable, limited license to view this Site, and to download and/or print insignificant portions of materials retrieved from this Site provided (a) it is used only for informational, non-commercial purposes, and (b) you do not remove or obscure the copyright notice or other notices. Except as expressly provided above, no part of this Site, including but not limited to materials retrieved there from and the underlying code, may be reproduced, republished, copied, transmitted, or distributed in any form or by any means, without the express written permission of Ogeechee Meat Market, LLC.
1.3 Use, duplication, or disclosure by or for the United States Government is subject to the restrictions set forth in DFARS 252.227-7013 (c)(1)(ii) and FAR 52.227-19.
3. DISCLAIMERS
3.1 THIS SITE IS PROVIDED ON AN "AS IS", "AS AVAILABLE" BASIS AND Ogeechee Meat Market, LLC EXPRESSLY DISCLAIMS ALL WARRANTIES, INCLUDING THE WARRANTIES OF MERCHANT ABILITY, FITNESS FOR A PARTICULAR PURPOSE, AND NON-INFRINGEMENT. Ogeechee Meat Market, LLC. DOES NOT WARRANT OR REPRESENT THAT ANY MATERIAL ON THIS WEBSITE IS ACCURATE, COMPLETE, CURRENT, RELIABLE, OR ERROR-FREE.
3.2 Ogeechee Meat Market, LLC. disclaims all responsibility for any loss, injury, claim, liability, or damage of any kind resulting from, arising out of, or in any way related to (a) any errors in or omissions from this Site, including but not limited to technical inaccuracies and typographical errors, (b) any third party websites or content therein directly or indirectly accessed through links in this Site, including but not limited to any errors in or omissions therefrom, (c) the unavailability of this Site or any portion thereof, (d) your use of this Site, or (e) your use of any equipment or software in connection with this Site.
4. LIMITATION OF LIABILITY A COVERED PARTY (AS DEFINED BELOW) SHALL NOT BE LIABLE FOR ANY DIRECT, INDIRECT, INCIDENTAL, SPECIAL, OR CONSEQUENTIAL DAMAGES OF ANY KIND WHATSOEVER (INCLUDING, WITHOUT LIMITATION, ATTORNEYS' FEES AND LOST PROFITS OR SAVINGS) IN ANY WAY DUE TO, RESULTING FROM, OR ARISING IN CONNECTION WITH THIS SITE, INCLUDING ITS CONTENT, REGARDLESS OF ANY NEGLIGENCE OF ANY COVERED PARTY. "Covered Party" means Ogeechee Meat Martket, LLC., its affiliates, and any officer, director, employee, subcontractor, agent, successor, or assign of any of them.
5. PRODUCT & SERVICE AVAILABILITY IN FOREIGN COUNTRIES
This Site may contain references or cross references to Ogeechee Meat Market, LLC. products and services that are not available in every country.
6. GOVERNING LAWS IN CASE OF DISPUTE; JURISDICTION
These Terms and Conditions shall be governed by and construed in accordance with the laws of the State of Georgia, USA, as they apply to agreements made and solely performed therein. Disputes arising here under or in any way related to this Site shall be exclusively subject to the jurisdiction of the Federal Courts of the United States of America and/or the State Courts of Georgia, and jurisdiction therefore shall rest solely in Georgia, USA.
7. CHANGES TO SITE AND THESE TERMS AND CONDITIONS
This Site and these Terms and Conditions may be changed by Ogeechee Meat Market, LLC. with or without notice. Please review this link on a regular basis for changes. Continued use of this Site following any change constitutes your acceptance of the change.
8. ENTIRE AGREEMENT; SEVERABILITY
These Terms and Conditions incorporate by reference any notices contained on this Site and constitute the entire agreement with respect to your access to and use of this Site. If any provision of these Terms and Conditions is unlawful, void or unenforceable, then that provision shall be deemed sever able from the remaining provisions and shall not affect their validity and enforceable.
12. IF YOU DO NOT AGREE ...
IF THESE TERMS AND CONDITIONS ARE NOT ACCEPTABLE IN FULL, YOU MUST IMMEDIATELY TERMINATE YOUR USE OF THIS SITE.
Ogeechee Meat Market doesn't share your information with any third or any other party. Period.